Quality of Materials

Simmons is famous for their Beautyrest mattress. Although they also have a lower tier brand called Beautysleep, many of the components that we describe about Beautyrest are going to be the same across this other line. The Simmons Beautyrest mattresses on the market today are all pocketed coil innerspring mattresses or hybrid mattresses (pocket coils and more memory foam). Unfortunately, there are reports about durability and quality control issues with people experiencing pain from sleeping on some of their bedding.

The pros: Good variety of pocket coil and hybrid mattresses with a variety of firmness options.

The cons: Higher than average reports of durability and quality issues.
Mattress Types
Simmons Beautyrest makes three different lines: The Beautyrest Recharge, Beautyrest Elegance, and Beautyrest Black. We'll go through each of these lines in depth so you know what's inside.
Beautyrest Recharge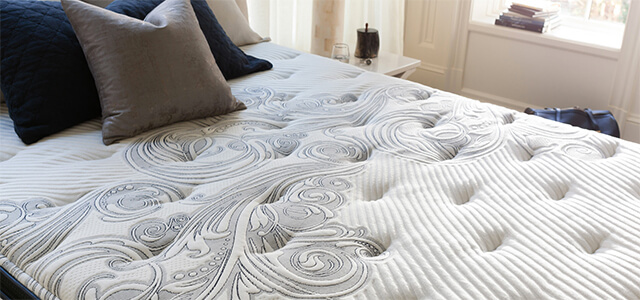 Simmons Beautyrest Recharge offer 19 different mattress options. The big differences between them are the firmness, top, and hybrid options. The rule to go by is that more foam, means more cost. The middle of the line Audrina mattress has three thin layers of gel foam over the pocket coils and has a 14'' profile.
The pros of this mattress line is the wealth of options at the lowest pricepoint for a Beautyrest.
The cons are reports that durability and comfort may be lacking.
Price Range: $799-$3599
Final Score: 7.2 / 10
Beautyrest Platinum

The Beautyrest Platinum mattress is the luxury mid-line mattress of the group. It has 12 different offerings and similar to the Beautyrest Recharge, the main differences are firmness, top, and foam. The Luxury Firm Gabriella, which is in the middle of the group, is very similar to the Beautyrest Recharge, but the extra money is spent on better foam and more, smaller pocket coils.
The pros: Lots of options for the line, similar to the Recharge.
The cons: Big pricepoint increase without a substantial increase in material, and also similar reports of durability issues.
Price Range: $1499-$4199
Final Score: 7.5 / 10
Beautyrest Black

The Beautyrest Black has gotten a lot of acclaim from Tom Brady's endorsement and commercials. Similar to the Platinum, there are 12 different options. The middle of the line Katarina has 1'' more profile than the other lines. The big difference between this mattress and the Platinum is the additional microdiamond infused memory foam. According to Simmons, this helps whisk away the heat.
The pros: Though gel would be more affordable, we can agree -- it's just a lot 'cooler' to have diamond infused foam!
The cons: There is a significant pricepoint increase for not a lot of increase in materials vs. the other Simmons mattress (except for the diamond foam). Though this is a newer mattress, please be aware that other Simmons mattresses have had complaints about durability.
Price Range: $1999-$6999
Final Score: 7.7 / 10