Quality of Materials

Aireloom brand makes exclusively handmade hybrid mattresses. Their mattresses are made of a blend of foam and latex on the upper part of the mattress, followed by natural materials, and coils. They also provide a foundation, which is important to note. Their mattresses are made with high quality materials, including pocket coils, memory foams, and latex. Their products do NOT have a CertiPUR-US certification, meaning that there may be offgassing from some of the memory foam they use. It is important to note that most folks don't complain about the quality of materials, but just the overall feel and sagging. We believe based on our research, that Aireloom does indeed provide high quality materials in its mattresses.
Mattress Types
They have four different lines of mattresses. We'll go in depth on each one of them.
Synchronized Support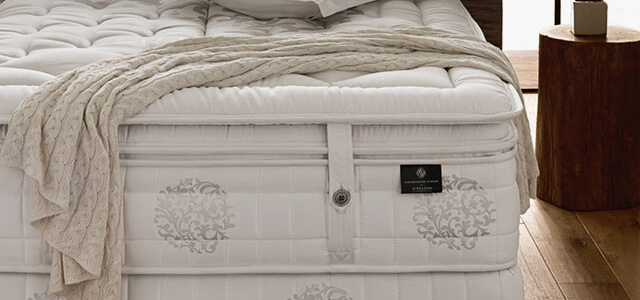 The Synchronized Support line comes with two options: the LuxeTop Design and the Streamline Design. The main difference between is the LuxeTop has an additional 1/2 inch, while the Streamline compacts that last half inch. This is mostly a cosmetic distinction. Additionally, Aireloom offers an additional latex Comfort Pad that you can strap onto this mattress for added softness.

Materials
- Two layers of talalay latex
- One layer of cotton
- One layer of foam
- Pocket coils
- Divan base with 8-3/4 guage innerspring system
The pros of this mattress are its luxury materials and hand-made design.
The cons are reports of noise and sagging after a short time falling in line with the customer feedback about Aireloom in general.
Price Range: $2999-$9839
Final Score: 7.8 / 10
Rip Van Winkle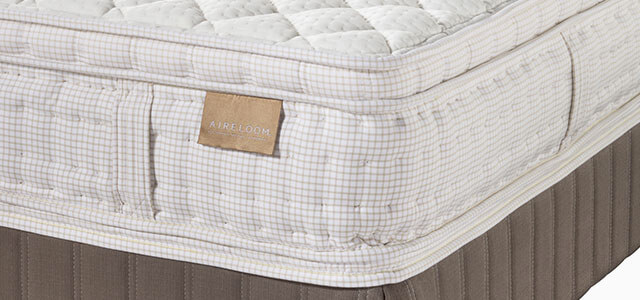 The Rip Van Winkle mattress has an old world style. It comes in three styles based on firmness: Plush, Medium Firm, and Firm. Additionally, there are options for a low profile 5'' option for any one of these.

Materials
- 42 lbs of cotton felt
- Talalay latex layer (firm to plush)
- High density support foams
- Off-set coil innersprings
- Base of 13 gauge coils
The pros of this mattress are the natural cotton, traditional design, luxury materials, and range of offerings.
The cons: First, this is one of the biggest culprits of sagging according to online reviewers. James from San Clemente reported that within a short time: 'It had extreme sagging on my side of the bed (I weigh 210 lbs) along with a very large hump in the middle - this occured despite rotating the bed every two months.'
Price Range: $2599-$4199
Final Score: 6.9 / 10
Preferred

The Preferred Aireloom mattress comes in three design choices with offerings from plush to firm and its claim to fame is its use of super soft Tencel in the surface and dilligence to modern advances in memory foam. Out of the three options, the Preferred Luxetop has an additional 1/2 layer on top. The Streamline is similar but without the additional cosmetic 1/2 layer. The last is the Streamline Channel Design, which has rows rather than the standard tuft top -- again mostly a cosmetic choice with only a small amount of feel.

Materials
- Temperature regulating 'Airegelle'
- Plush or high density foams
- Memory foam
- Pocket coils
- Tempered coils based on feel
- Attached foundation
The pros of this mattress are the cooling Airegel technology, smooth feel of the Tencel fabric, and the luxury materials.
The cons are the overall price tag is high for a memory foam mattress and there have been similar reports of sagging.
Price Range: $2675-$4079
Final Score: 8.0 / 10
Aspire & Hotel Collection

The Aireloom Aspire collection is the minimalist of the line. It's first option is the 'Phase Change' plush version that has temperature regulating foam tech. The second version is the Triple Option that has firm through plush selections.

Materials
- Memory foam and 'Airelux' foams
- Pocket coils
- 9'' or 5'' foundation
The pros of this bed are that it is the most affordable of the line, while still being hand crafted.
The cons are that it still has some of the lingering sagging complaints and a high price point.
Price Range: $1300-$2099
Final Score: 7.7/10